books
The magic of Thailand's largest island, Phuket, is the stuff of dreams for holidaymakers and expatriates alike.
READ MORE
The history of Phuket has been revealed!! 'A History of Phuket' is a comprehensive and well-researched book of Phuket and the surrounding region that incorporates original quotes and writings from...
It was longtime friend and fellow hasher, Johnny Johnson, who – putting his head round my apartment door that August morning – uttered the immortal words, "I've got a map....
For most readers, the most captivating parts of the memoir are about Phuket – which he adores – and to which he has contributed so much, despite the "file and...
Phuket City
+66 76 263708
Things to do The most popular weekend market is officially called 'Chao Fa Variety'. There's a bewildering choice – everything from clothes, jewellery, handicraft items, pets to electronics. And if you're hungry, there's...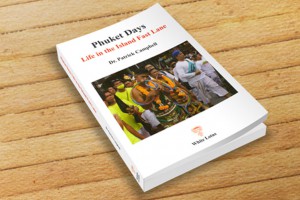 When I had first come to live in Phuket, I had needed, as all "expats" do when faced with the unfamiliar tenets of Thai jurisprudence, a good lawyer. I hadn't...
Southeast Asia Pilot features detailed charts with GPS anchorage positions, photos and the latest cruising info on the region and includes Phuket and Thailand.
The Streets of Phuket is Phuket's First Ever Street Directory and sees 200 pages of detailed street maps with a comprehensive index. The publication is a 188-page 'must-have' for Phuket...
Found 7 result(s) • Showing 1 - 7